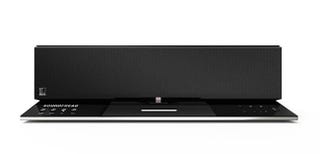 The "big brother" to Gizmodo's favorite $100 Bluetooth Speaker is Soundfreaq's Sound Step Lightning. StackSocial has it for $99 – that's 23% off. This is the lowest price ever on the very well-reviewed Sound Step Lightning.
As the name suggests, the Lightning includes a dock for devices with Apple's 8-pin connection, along with bluetooth connectivity, USB audio and traditional line-in playing. Like all Sound Steps, the Lightning also packs 2.1 speaker configuration, a FM tuner and spatial sound enhancement to provide audio that has impressed reviewers (see below). Plus, it will charge a Lightning device and a USB device at the same time. At the current price of $99 (23% off), it seems pretty good value.
>> Get the Sound Step Lightning Speaker for $99 (23% off) + Free Shipping
The Lightning's highlights…
2.1 speaker configuration with dedicated sub-woofer and proprietary UQ3™ spatial sound enhancement to deliver natural bass and stereo separation – unique for a compact speaker
Four sound inputs: bluetooth, Lightning dock, line-in jack, and an internal FM tuner you can control through Soundfreaq's app.
USB port allows you to charge any USB-chargeable gadget
Capacitive touch buttons to control playback at the speaker, and an IR remote for everywhere else
And those reviews I promised you…
"If you're looking for a nice combination of sonic performance, features, and style on a budget, you'll find it to be one of the top Lightning options on the market." – iLounge
"Make no mistake, this is a high-quality device with a sleek design and intelligent sound." – 9 to 5 Mac
This deal is Continental US only, but free shipping is included. To get the Sound Step Lightning, or for more info, check out the link below.
>> Get the Sound Step Lightning Speaker for $99 (23% off) + Free Shipping
Written by Mark Myerson
---
StackSocial is partnering with the Commerce Team to bring you deals on software, apps, gadgets, tutorials, and design. So to be clear, this post is not editorial and we make money on sales.