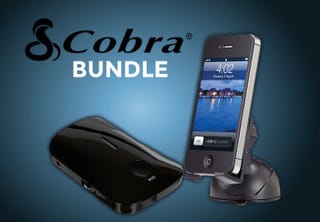 For a limited time, you can get 45% off the CES Innovation Award–winning Cobra iRadar 150 + Universal Mount. It's a handy way to make sure you monitor your driving speed and are aware of your surroundings.
Cobra's iRadar is top of the line:
Detects all radar guns with best-in-class technology
Displays alerts from other iRadar users so you find out about speed traps before you drive by one
Free iOS App that displays nearby traffic and the location of any cops giving tickets
Universal Mount holds any smartphone without leaving a mark on your dashboard
A similar bundle with an older iRadar is on sale at the Apple Store for $130. That's $45 more than through StackSocial, where Jalopnik readers can get this bundle for $84.99. Plus, we've thrown in free shipping to the US.
Interested? Head over to StackSocial:
>> Get 45% off The Essential Cobra Radar Bundle | StackSocial
---
StackSocial curates exclusive deals on trending and innovative products. They've partnered with the commerce team to bring you these specials. So to be clear, this post is not editorial and we make money on sales.