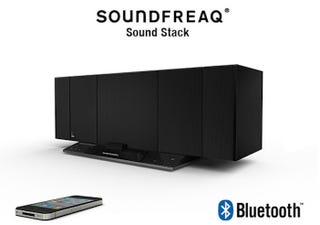 Black Friday has come early to Gizmodo. For a short time, Gizmodo readers can grab one of the best bluetooth speakers on the market for 40% off plus free shipping ($179 down from $300). This deal is limited to 100 Sound Stacks, so grab one quick!
[Update] Gizmodo readers sold out our inventory of 100 so quickly, that we were able to get 75 more Sound Stack's from Soundfreaq. The sale is on!
The Sound Stack includes:
Lossless AAC transfer for a high definition Bluetooth connection
Remote Control that attaches magnetically to the back of the Sound Stack
Apple, Android, and Windows friendly (Mobile and Desktop Bluetooth)
Soundfreaq's unique UQ4 spatial sound enhancement
The Sound Stack makes a killer present. It's powerful enough to be your sole home sound system while mobile enough to function as a Bluetooth speaker.
The back is louvered with a polished look. It also contains the dubsub - dual subwoofers.
Endorsements
Mashable's Charlie White said neither Bose's SoundDock or the Zeppelin Air were any match for the Sound Stack. He ended his review with: "It's a tremendous value for $399 and would recommend it for anyone who's familiar with what good music really sounds like and wants to be awestruck by gigantic sound in a surprisingly small package."
If he thought it was a deal at $399, $179 is a slam dunk!
Wired also loved the speaker, calling the Super Freaq "Excellent." The Sound Stack was also 1 of only 2 speakers to make Wired's Gear of the Year list.
The Sound Stack is normally $300, but Gizmodo readers can grab it for $179. It includes FREE shipping inside the US. If you want to grab one of the best Bluetooth speakers on the market, head over to StackSocial for details. And yes, you'll have it in time for the holidays :)
>> The Soundfreaq Sound Stack | StackSocial
[Update: This exclusive offer has sold out]
---
StackSocial curates exclusive deals on trending and innovative products. They've partnered with the commerce team to bring you these specials. So to be clear, this post is not editorial and we make money on sales.