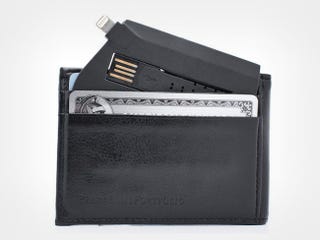 Smartphones are pretty good at rescuing you from most problems, but when they run out of juice, you have to rescue them with a charging cable…which I never remember to take. The Chargecard wants to solve this by fitting that cable into your wallet. Now, you can get one for 20% off.
Basically, the Chargecard is a USB to Lightning (Micro USB in the Android version) cable that is shaped like a credit card when folded up. In use, the USB end flexes out from the middle of the card to meet the power-giving port, while the smaller Lightning end stays rigid to provide good durability. And, of course, the Chargecard is pretty handy for moving data. The Chargecard currently has 21% off, making it $24.99:
>> Get 21% off the Chargecard Backup Charging Cable + Free Shipping
Here are the Chargecard's best bits…
The world's thinnest USB phone cable
The thickness of 2.5 credit cards (0.1" thick)
Always have a cable on you, slide it nicely into your wallet
Charge and sync your Lightning devices
And Lifehacker's verdict…
"The size and shape, and the fact that it fits anywhere without needing to be coiled/uncoiled or being a pain to carry, make it a pretty useful tool." – Alan Henry, Lifehacker
Stuff to note: the Apple version of the Chargecard charges devices with an 8-pin Lightning port (iPhone 5/5S/5C, newer-gen iPad & iPod Touch), but the Micro USB version is also available (Android). This deal is Continental US only:
>> Get 21% off the Chargecard Backup Charging Cable + Free Shipping
Written By Mark Myerson
---
StackSocial brings you deals on software, apps, gadgets, and elearning. So to be clear, this post is promotional, not editorial.