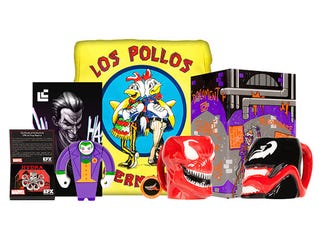 Love geek and gamer culture? You should check out Loot Crate - the subscription service that delivers a surprise box of new and exclusive gear, collectibles, toys, apparel, art, and more right to your door every month. It normally costs around $20 / month, but Kotaku readers can save 15% and score a 3 month membership for just $49.
Top Features:
Be surprised by new, cool & exclusive geek items each month

Receive a different crate each month

Discover incredible new brands

Indulge your love of everything comic & nerd culture

Join a community of like-minded nerds & nerdettes

Fill the void until next year's Comic-Con
Loot Crate sends out a box of gear to your door every month, and the content is always a mystery. Each month's theme is announced in advance, and looking at previous months gives you a good idea of what to expect — awesome collectibles, toys, apparel and art, including plenty of exclusives.
This deal includes shipping to the continental US, but is available in Australia, UK, Norway, Sweden, Ireland, Denmark, Netherlands & Germany for $71.40. Your Loot Crate will arrive between the 20th-28th of each month. Interested? Find out more at the link below.
---
StackSocial brings you deals on gadgets, apps, elearning, and consumer tech. So to be clear, this post is not editorial and we make money on sales.