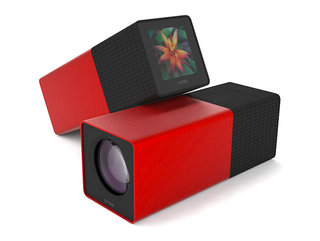 Lytro created the first consumer camera with light-field technology, which lets you refocus and zoom into an image after it's been taken. The first generation 16GB models normally run $200, but for a limited time, Lifehacker readers can save over 60% and get one for $74.99 with code LYTRO5.

Top Features:

Take "living pictures" you can adjust afterwards

Refocus your shots, change their perspective & view them in 3D

Record 11-million light rays in each scene

Store up to 750 photos at one time

Easily carry it anywhere: design is compact, durable & lightweight

Shoot photos at an optimal resolution for sharing online

Access an array of tools including photo filters & uploading software

Includes a sleek, durable carrying and storage sleeve to protect against lens scuffs and scratches
Most cameras produce a static 2D image by capturing the position of light rays in your field. Lytro's light field technology captures the direction of these rays, giving you an image you can later refocus, change perspective, or view in 3D. You can store up to 750 photos on the camera itself, and it comes with a free desktop app for importing, processing, and interacting with your Lytro pictures.
Shipping is free to the US, and will take 1 week to arrive. Unfortunately, this item can't ship outside of the US. Interested? Get yours at the link below, and use code LYTRO5 at checkout to apply the full discount.
---
StackSocial brings you deals on gadgets, apps, elearning, and consumer tech. So to be clear, this post is not editorial and we make money on sales.