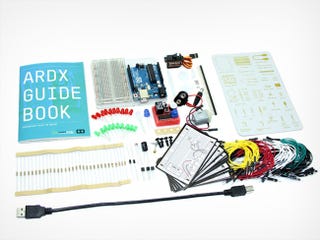 If you've ever wanted to create your own Arduino projects, check out this complete Arduino starter kit & course bundle. You'll get setup with a full kit of all the hardware you'll need, plus 25 hours of expert, step-by-step training to get you started. Right now, Kotaku readers can get this bundle for 83% off.
Arduino is the ultimate do-it-yourself open source electronics platform, and has garnered a community of enthusiasts who've made some pretty incredible projects. Arduino's micro controllers allow you to integrate any digital and physical signals, so you can create anything from simple sensors to robots - there's no limit on the possibilities of what you can hack together. With this complete starter kit, you'll get everything you need to build your own projects and learn all the fundamentals of Arduino programming with step-by-step instruction.
Here's what's included:
ARDX Arduino Starter Kit - Tackle 13 different projects with this fully-stocked beginner's toolkit
Arduino Step-by-Step 'Your Guide to the Internet of Things' Course
Arduino 'Make a Remote-Controlled Car' Course
Beginning Arduino 'Make Your Own Environment Monitor System' Course
The total value of this bundle is $520, but Kotaku readers can pick it up for 83% off - just $84.99 (includes shipping). For more information, hit the link below.
Save 83% on the Complete Arduino Starter Kit + Course Bundle
---
StackSocial brings you deals on gadgets, apps, elearning, and consumer tech. So to be clear, this post is not editorial and we make money on sales.