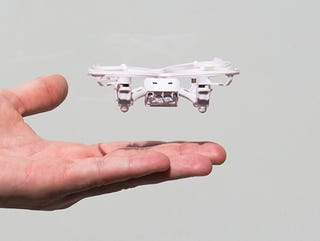 Ready to take to hit the skies with your own quad-copter? The Snowflake Stealth Drone is not only versatile, but extremely fun to fly. This compact drone 4-way flips and 360° rolls in any direction, perfect for indoor or outdoor flight. For a limited time, Jalopnik readers can grab one for 65% off - just $35 with free shipping.
Top Features:
6-axis gyro technology for smooth & steady flight
High-speed mode for outdoor racing
4 multi-color LED lights to navigate the night's sky
2.4 technology to avoid multi-drone collision
4 safety-protected propellers for crash recovery
4CH digital proportional RC system for indoor & outdoor flight
The Snowflake's smooth maneuvers, flawless 4-way flips, and 360˚rolls in any direction make it truly best in class. Soar, hover, flip, and tilt with ease or join a fleet of drones, thanks to advanced anti-collision technology. This fun quadcopter, with its durable design and gyro-stabilization, is fit for any terrain and any pilot ready to hit the skies.
Normally $100, Jalopnik readers can grab one for just $35, a full 65% off MSRP. Even better, shipping is included, and should take 1-2 weeks to arrive. Interested? Grab yours at the link below before they're all sold out!
---
StackSocial brings you deals on gadgets, apps, elearning, and consumer tech. So to be clear, this post is not editorial and we make money on sales.