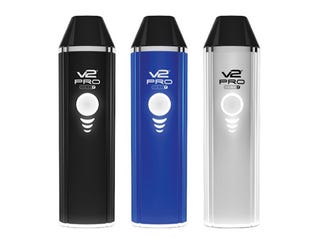 The V2 Series 7 Vaporizer packs all the features of high-end model (like PAX) at an affordable price even newbie vape-ers can justify, including loose-leaf & e-liquid cartridges, extended battery life, and temperature control. Right now, Deadspin readers can grab one up for $50 off + free shipping.
Top Features:
Receive everything you need: a vaporizer, magnetic USB charging cord, wall adapter, e-liquid cartridge, loose-leaf cartridge & the pick and brush for basic loose-leaf cartridge maintenance

Personalize your vape w/ a choice of three colors: black, steel & blue

Utilize smart technology & premium features

Select your preferred voltage & temperature settings

Enjoy the larger storage capacity & extended battery life

Automatically heat your vape to the optimal temperature w/ built-in cartridge type recognition
The V2 Pro enlisted the latest technology to bring you a kit equipped with temperature and voltage controls, greater storage capacity, and extended battery life—aka everything you'd want in a high-end vaporizer. The V2 Pro will even automatically recognize the cartridge type to choose from three temperature or voltage adjustments and heat to the optimum temperature, so you can sit back, relax, and enjoy the vape.
You can choose from black, blue, or silver depending on your style, and you'll be covered by V2's lifetime warranty in case anything happens. Head to the link below to find out more and get yours today.
---
StackSocial brings you deals on gadgets, apps, elearning, and consumer tech. So to be clear, this post is not editorial and we make money on sales.