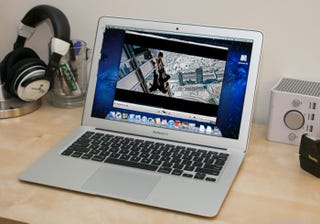 This mini bundle is an awesome combination of 2 Mac apps that let you easily rip DVDs and videos for playback on your Mac, iPhone, iPad, Android, or other device. Want to watch your DVDs on your iPhone for free? This is the best $20 you'll spend in a long time. Now, Lifehacker readers can get this bundle for 80% off.
At StackSocial, we were shocked by how well received this deal was. It sold so fast we had to turn the deal off for a few days just to get more licenses from MacX. Here's some comments from the deal page:
"Both of the programs are really great. It's certainly the best 20 dollars I've spent for a long time. They are both easy to use and powerful. Thanx guys for the discount and the high quality programs." - Mustafa Ozcinar
"Thanks guys! Awesome Deal!" - Jake Iturra
MacX DVD Ripper Pro, one of the two programs included
This deal includes two Mac apps:
MacX DVD Ripper Pro (seen above)
MacX Video Converter Pro
Available Formats:
Playback: Mac, iPhone (4-5s), iPad (3/4/mini), iPod, Apple TV, or Android phones and tablets
File Types: MP4, QT, FLV, MOV, AVI, MP3., MPEG, etc. You can even import the converted file to iDVD, Final Cut, iTunes, or iMovie.
A few more details to note:
Both apps are compatible with all versions of OSX including Maverick
The apps are not compatible with Blu-Ray
Purchase includes free updates for all future versions of software
Using MacX DVD Ripper Pro does not damage or alter the DVD
I would recommend this software to any Mac owner who wants to ditch their DVDs. If you have any questions, comment below and I'll do my best to answer. Otherwise, if you're interested, head over to StackSocial for details:
>> The MacX DVD Video Converter Pro Pack | StackSocial
---
StackSocial is partnering with the Commerce Team to bring you deals on software, apps, gadgets, tutorials, and design. So to be clear, this post is not editorial and we make money on sales.