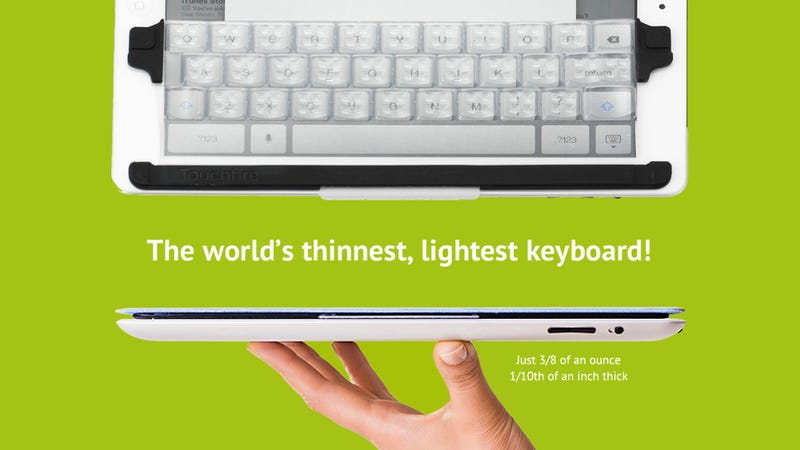 Typing on an iPad sucks, but most keyboards avoid the problem. They augment the tablet experience with Bluetooth or a cable. Not Touchfire - by attaching to your iPad with magnets, Touchfire allows you to use your iPad as Jobs intended - only better. Today, Gizmodo readers can get the Touchfire Keyboard for only $34.99.
What makes the Touchfire so exceptional is that it offers you all the functionality of a real keyboard, but in a slim, non-invasive package. The Touchfire is so thin that you can leave it on your iPad when you flip on or roll up the Smart Cover as a stand.
Here's what else you can expect:
Made of flexible silicone rubber
Attaches to any iPad using built-in magnets (iPad 2-4) or it's non-slip edge (iPad 1)
Completely transparent so you can always see the keys underneath
Feels like a real keyboard: micro-structures within each key provide proper force resistance.
Free lifetime warranty
Recently named one of the 100 most brilliant companies of 2013 by Entrepreneur Magazine, Touchfire began with an enormously successful Kickstarter campaign in 2011 (reached over 2000% of its funding goal!) and hasn't slowed down since – looks like they're really onto something.
Gizmodo readers can get this deal right now for $34.99 – 30% Off
Important Details: Shipping is FREE for US and International customers, but the price for International customers (outside the US) is $44.99 rather than $34.99.

If you're a tablet-toting power user than today's your lucky day. Head over to StackSocial to check it out:
The Touchfire Keyboard| StackSocial
Note: We recently offered a deal for the Spigen iPhone Case to Gizmodo readers. Yes - there were some issues with redemption, and for that we're very sorry. However, we've worked extra hard to ensure this deal goes off without a hitch. If you have any issues or questions feel free to contact me directly: alex.beller [at] stacksocial.com
---
StackSocial curates exclusive, hand-picked deals on trending and innovative digital products purely for tech readers. So to be clear, this post is not editorial and we make money on sales.