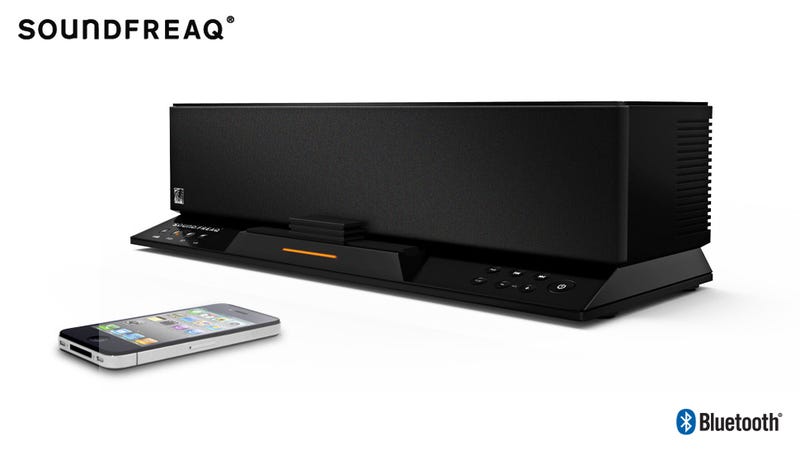 Bluetooth speakers need to be portable, so they're usually small. The problem is that can minimize sound quality. Soundfreaq has solved this better than anyone. Now from StackSocial, Gizmodo readers can get Soundfreaq's Sound Step Recharge for $99 (down from $150).
The price on StackSocial is $105, but if you enter the coupon code GIZFIVE during checkout, it will knock off another 5%. That brings it to $99.
The speaker comes in 3 colors: black, white, and red. This deal also includes free shipping (woohoo!) but is only available to readers in the continental US. Even so, it's such a great product that we wanted to share the love!
What makes this speaker special is its audio quality: The clarity and tone are unrivaled in a portable Bluetooth speaker. Gizmodo rated Soundfreaq's Sound Kick as the best $100 Bluetooth Speaker. This deal is for the Sound Step Recharge SFQ-02RB, a bigger, badder, and more powerful version of the Sound Kick.
Some features:
Amazing sound quality
Rechargeable battery - over 6 hours of battery time
Bluetooth compatible - any bluetooth enable smartphone, tablet, laptop, or phone
Auxiliary input and FM radio
Like bluetooth speakers but never pulled the trigger? Need to upgrade from a speaker that sounds mediocre? This is the perfect opportunity during StackSocial's Back To School Sale.
Grab the Soundfreaq Sound Step Recharge at StackSocial for $99 or 35% off (make sure to use the coupon GIZFIVE).
---
StackSocial is partnering with the Commerce Team to bring you deals on software, apps, gadgets, tutorials, and design. So to be clear, this post is not editorial and we make money on sales.