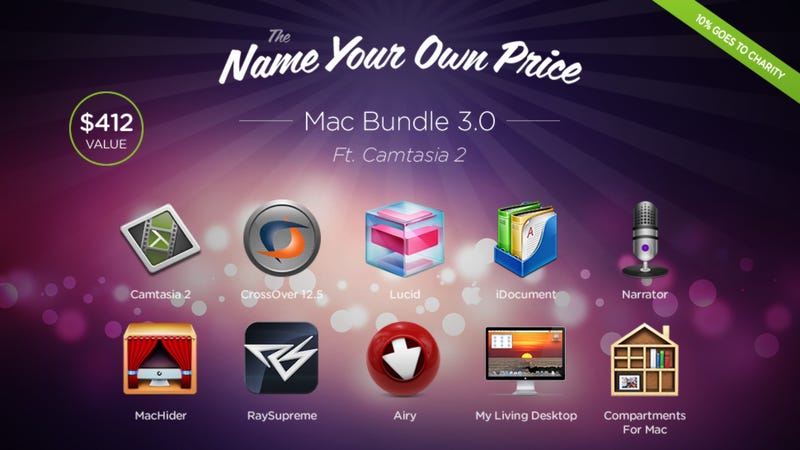 Mac Bundles are a great way to get software on the cheap, but the latest bundle from StackSocial takes bundles to a whole new level. Gizmodo readers can now name their own price for 10 mac apps including Camtasia 2. This deal has great value: $412 of top software for about $14.
The inclusion of Camtasia (normally $99) and CrossOver (normally $60) in this bundle is what takes it over the top. Plus, Gizmodo likes how CrossOver "lets you run windows applications on Mac OS X without needing a copy of Windows."
The bundle includes:
Camtasia 2 ($99) - The #1 rated sceencasting tool for Mac
CrossOver 12.5 ($60) - Run Windows programs on your Mac
Lucid ($53) - Add animations to web pages w/out code
iDocument 2 ($50) - Smart document management for Mac
Narrator ($40) - Give words audio depth
MacHider ($10) - Securely hide files and folders on your Mac
RaySupreme ($40) - Texture, Render, and Built 3D Models
Airy ($20) - Powerful YouTube video downloader
My Living Desktop ($30) - Display animations on your desktop
Compartments for Mac ($10) - A fast and easy to use home inventory application
You can grab three of these apps for any price you want (over $1), but you'll need to beat the average price (now at $14) to get everything. Even at $14 this bundle is a killer value.

After selecting your price, you pick a charity to give 10%. The deal ends in a few days and is 97% off some great apps - Hit up StackSocial to redeem:
The Name Your Own Price Mac Bundle 3.0 | StackSocial
---
StackSocial is partnering with the Commerce Team to bring you deals on software, apps, gadgets, tutorials, and design. So to be clear, this post is not editorial and we make money on sales.