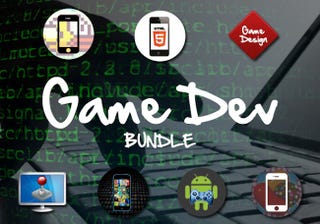 I think we can all agree that an 8-bit version of The Avengers would be awesome to play. Want to learn how to build it (or another game idea) yourself? With a bit of knowledge, anyone can turn a simple game idea into a smash hit – and we've built a bundle (now 95% off) to teach you those skills.
While you won't be building Halo by the end of these seven courses, the 31 hours of content should certainly get you started in development. This bundle will give you an education in developing for both Android and iOS, a beginner's guide to HTML5 game development, and a quick-start guide to creating a game with Stencyl. These courses normally cost $989, but the 95% discount on this bundle makes them a little more affordable, just $49.
>> Get 95% Off the Game Developer E-Learning Bundle
Note: We offered this deal to Kotaku readers 2 months ago, and it was so well received, we decided to bring it back for Gizmodo readers. Enjoy :)
Here's what's included:
Learn Android App Development from Scratch
Create full-fledged Android applications and games
Understand the core concepts of Android programming and the Android SDK
Creating iOS Games for Beginners
Install and include Cocos2d for iPhone in your projects, and understand scene workflow
Run animations and actions on your sprites
Create Your First Computer Game w/ Stencyl
Learn to build logic in a visual interface and design sprites with Photoshop
See How Flappy Bird Was Built
Gives you the source code see how a simple, addictive game like Flappy Bird is constructed
Step by step instruction on creation and approval process
HTML5 Mobile Game Development for Beginners
Create a game for iOS, Android and desktop using free tools and frameworks
Create your first spaceship, farming and virtual pet games
Intro to Game Design w/ Unity3D
Learn the basics of the Unity3D game engine and create 3D game levels with geometry, textures, lights, advanced particles and effects.
Publish games to iOS, Android and desktop
This deal comes with a 30-day money back guarantee and unlimited lifetime access to the courses. Interested? Check out the link below.
>> Get 95% Off the Game Developer E-Learning Bundle
Note: Each course includes instructions for how to download the free software you will need to complete it.
Written by Mark Myerson
---
StackSocial brings you deals on software, apps, gadgets, tutorials, and design. To be clear, this post is not editorial.