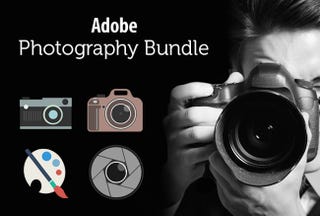 Are you passionate about photography? With over 200 lectures & 27 hours of content, this bundle from Adobe can teach you the skills necessary to take beautiful photographs and bring them to life with Photoshop Creative Cloud. Normally $243, you can grab this bundle for 87% off – just $29.99.
Do you own a DSLR camera but aren't sure how to use it? Maybe you're a beginner on photoshop but want to learn more. Either way, this mastery course can help bring your photography skills to the next level. Check out all the content below.....
>> Get 87% Off Adobe KnowHow's Photography Mastery Bundle | $29.99
Here's the courses included in this bundle:
Master Adobe Photoshop Creative Cloud: A Definitive Course
Teaches you the basic of Photoshop Creative Cloud
Introduces the most used photoshop tools like Magic Wand, Brushes, Cloning, etc.
Includes over 13 hours of instruction
EasyDSLR Beginners Photography Course
Teaches you the basics of using a DSLR camera
Over 4 hours of instruction
Covers white balance, focus points, shutter speeds, aperture settings and more
By completion, you won't be using the "Auto" setting anymore :)
The Art of Black & White Photography
Over 19 lectures and 6.5 hours of content
Teaches you the proper workflow for developing black & white photos
Learn to how optimize your camera for taking black & white pictures in the field
Night Photography Unlocked
Over 20 lectures and 4 hours of content
Teaches you how to alter your controls to optimize for night photography
Learn how different types of cameras perform at night
All of these courses come with unlimited lifetime access and a 30-day money back guarantee. Discounted from $243, this is a pretty great deal for content direct from Adobe. Head for the link to grab the deal.
>> Get 87% Off Adobe KnowHow's Photography Mastery Bundle | $29.99
Bonus Deal:
Interested in 3D printing but don't know where to start? StackSocial has the a 3D Printing Starter Bundle for 25% off. It includes the Portabee GO 3D printer + 45 hours of training to help you get started. This is a pricey one – $849, but it's 25% off.
---
StackSocial brings you deals on software, apps, gadgets, tutorials, and design. So to be clear, this post is not editorial and we make money on sales.