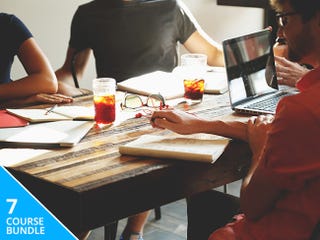 If you're ever planning on starting your own company, you're going to need a lot of help to be successful and stand above the competition. Get a leg up with these 7 courses designed to help you learn all you need to know to build your own startup - from sales and marketing to coding and web development.
Startup founders must possess a wide range of skills, and these 7 courses cover them all - everything from sales, marketing, and project management to web development and coding - in 75+ hours of in-depth training. After taking these courses, you'll be armed with the knowledge you need to start your own company. The combined price of all courses is over $700, but Lifehacker readers can get it for 96% off - just $29.
Here's what's included:
First Steps to Building a Tech Company ($99) - A comprehensive program for launching a tech company, taught by successful CEOs and founders.
Coding for Entrepreneurs: Learn Python, Django & More ($199) - Master the essential programming languages for non-technical founders.
Sales & Persuasion Skills for Startups Course ($180) - Learn how to influence others and sell your ideas & services.
Project Management Course ($85) - Learn how to effectively and efficiently get things done with project management essentials.
Startup Sales Course ($79) - Build your sales process using the Sales Model Canvas.
LinkedIn for Entrepreneurs Course ($47) - Generate highly-targeted sales leads using LinkedIn for business.
Startup Marketing & Public Relations Course ($49) - Learn marketing & PR skills specifically for launching a product.
You'll have lifetime access to the courses, so you can reference them at any time. To take advantage of this opportunity to invest in yourself, hit the link below.