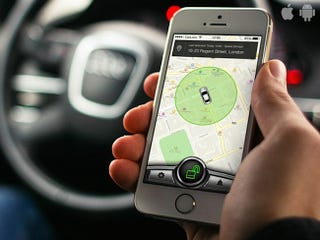 You'd do anything to keep your dream car safe, but CarLock's Plug & Play service actually makes it pretty easy to track your vehicle and protect against theft. Right now, Jalopnik readers can get a 3-year subscription for 57% off.
Think of it as "Find My Phone" for your car. CarLock sends you a plug-in, which goes in your car's diagnostic socket and streams live GPS and motion data back to your phone. You'll then get a notification if someone messes with your wheels, and in the horrific event of someone driving off, you can watch where they go in real-time. The plug-in can also detect crashes, with CarLock's system automatically alerting an emergency contact and providing your whereabouts. Plus, even in more mundane situations, the plugin still makes itself useful by keeping tabs on your car's battery level.
>> Get 57% off a 3-year CarLock's Plug & Play subscription ($199 incl. shipping)
A recap of CarLock's top features:
Effective notification in case of break-in or theft
Notification of emergency contact in case of a car crash
Remote car battery health check – straight to your iphone
Real time car location monitoring
Bear in mind that your car needs to have an OBD port (all cars manufactured after 1996 have one), and CarLock's app is compatible with iOS 7 and later, or Android 4.0. Check out the link to see all the details.
>> Get 57% off a 3-year CarLock's Plug & Play subscription ($199 incl. shipping)
---
StackSocial brings you deals on gadgets, apps, elearning, and consumer tech. So to be clear, this post is not editorial and we make money on sales.