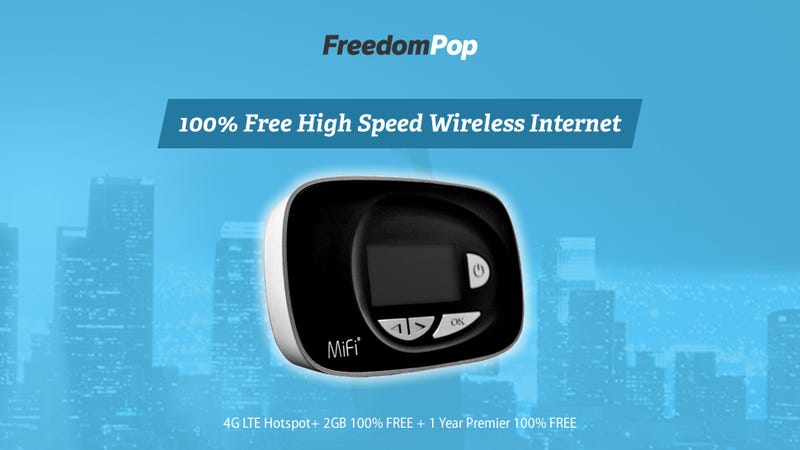 Free Internet, could it be true? Kind of. We've partnered with FreedomPop to make free monthly WiFi even cheaper. With this package from FreedomPop, Lifehacker readers can get 4G LTE WiFi at the push of a button... without monthly fees. The offer is 40% off the latest Wireless Hotspot plus free monthly Internet.
If you travel for work, don't want to join the unsecured networks in coffee shops, or just want to save money on Internet, FreedomPop's plans and hotspots are a good solution.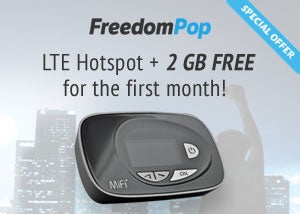 This offer includes everything you need to get setup on FreedomPop:
FreedomPop MiFi 500 (the device) - Free shipping
Free data: 2GB + 500 MB/month
Premier Plan for 1 year – includes Data Rollover
No Contract – cancel anytime
Perfect for work/travel
Professional reviewers like FreedomPop, but there are a few consumers out there who give mixed reviews. One reason for this: they go in expecting unlimited data. With FreedomPop, you get 500 MB of Free internet per month w/ rollover. If you go over, it costs around 2 cents per MB (or just upgrade to 2 GB/ month for $18). Either way, if you travel a lot, it's cheaper than paying in airports and hotels.
The bundle does cost $199, but that's down from $337, and if you think about how much you spend each year on Internet - it's quite a bargain.
>> Grab 40% of this exclusive FreedomPop package | StackSocial
Note: After you purchase, when setting up your account, note that the 2 GB Free first month is automatically enabled, but you will be charged for those 2 GB after the first month if you don't go in and change plans.
---
StackSocial curates exclusive, hand-picked deals on trending and innovative digital products. They've partnered with the commerce team to bring you these specials. So to be clear, this post is not editorial and we make money on sales.