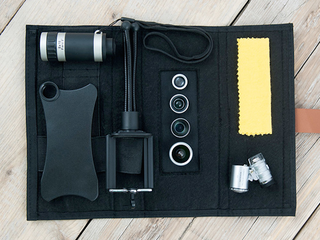 Smartphone cameras are getting better and better. But for those of you who want even more versatility, check out this deal for Gizmodo readers on a smartphone photography kit from StackSocial. It includes 6 different lenses, a tripod, and a bunch of other peripherals. The best part? It's 65% off.
Here's the highlights:
Smartphone Compatible: versions available for the Galaxy S5 and iPhone 4/4s, 5/5s, 6, & 6 Plus
The following lenses are included: 8x telephoto, fisheye lens, wide, macro, 2x telephoto, & 60x magnifying microscope
Includes hard-back carrying case
Includes tripod
Free worldwide shipping
It's not cheap, but if you know any budding photography, this kit makes a great holiday present. Interested? Head for the link:
---
StackSocial brings you deals on software, apps, gadgets, tutorials, and design. So to be clear, this post is not editorial and we make money on sales.