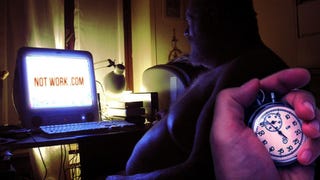 For those of us who put the "pro" in "procrastination," getting to the end of the day with a half-full to do list is a familiar feeling. To help you cut down on the number of wasted hours on YouTube, here's a deal on Rescuetime's time tracking service.
Because half the battle is knowing where all that time has gone, right? Well, as previously pointed out on Lifehacker, Rescuetime is a complete time management workflow, which times and records your daily productivity. After a few minutes of set-up, you can specify what you want to be getting done — Rescuetime automatically watches the apps you use and the sites you visit, and then produces detailed reports on how you can become more efficient. It will even block websites for you, so you don't have to find the willpower to get off Facebook…
We've taken 45% off the price of Rescuetime Premium, so it's currently down to $39/yr.
>> Get 45% Off Rescuetime Premium's Time Management Workflow
Here's a breakdown of Rescuetime's features:
No User Input Required – it automatically measures which applications and websites are actively being used on computers and mobile devices
Identify Productivity Killers – provides detailed reports showing which applications and websites you spend time on
Weekly Productivity Score – get a weekly email summary of your activity
Customizable Settings – activities are cataloged across thousands of websites and applications, with productivity scores assigned to each, but you can also customize productivity settings
Block Distracting Websites – blacklist time-consuming sites like Facebook
Bear in mind that Rescuetime works with Windows, Mac, Linux, Android, Chrome and Firefox, and you can install it on as many devices as you own, plus this deal also includes updates. For more on the deal and Rescuetime, click the link below.
>> Get 45% Off Rescuetime Premium's Time Management Workflow
Written by Mark Myerson
---
StackSocial brings you deals on software, apps, gadgets, tutorials, and design. So to be clear, this post is not editorial and we make money on sales.