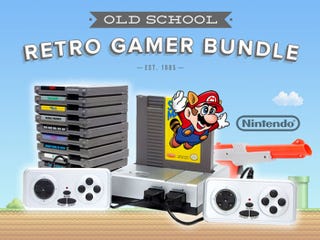 On the lookout for early holiday deals? We've got a bundle that will take you back in time: The Granddaddy of All Gaming Systems – the original NES. Get a system, 3 controllers, Zapper gun, and games (you choose which!) For a limited time, Gizmodo readers can score this throwback bundle for $59 - 30% off.

If you want to relive a bit of childhood, or gift this bundle to show the next generation how gaming started... 'Tis the season. With the Retro Gamer Bundle, you get to choose from all the classics like Duck Hunt, Teenage Mutant Ninja Turtles, Tetris, Golf, Metroid, and more.
>> The Retro Nintendo Gamer Bundle | StackSocial
Some people prefer the originals, but the Retron NES controllers come with a turbo button (old NES controllers don't). With turbo, you can dominate Punch Out, Metroid, and more.
Want to get taken back to 1989? We've included a classic NES controller and Zapper gun so you're covered.
This bundle also includes $10 credit towards any of the 1,000's of NES titles at JJGames. Games cost $5 on average, but some of the more coveted titles (like Mario Bros 3 or Zelda) cost over $10 – so depending on which you choose, may have to pay a bit extra. (We got you free shipping on the games though, too!)
Amazon's rating (4/5 stars) is based on a couple complaints about a few games having weird sound on the Retron. Otherwise, this is an awesome bundle for the holidays. Separately, everything would cost you $85.
To recap, you get:
Retron NES Console
2 Retron Controllers
1 Classic NES controller
1 Classic Zapper Gun (doesn't work on plasma or HD tvs)
Any 2 NES Games from JJ Games
For a limited time, you get 30% off ($59). No refunds, but Free shipping to the US and Canada.
>> The Retro Nintendo Gamer Bundle | StackSocial
Note: If you already have some old NES games, you can get the console w/out games with free shipping here.
---
StackSocial curates exclusive deals on trending and innovative products. They've partnered with the commerce team to bring you these specials. So to be clear, this post is not editorial and we make money on sales.