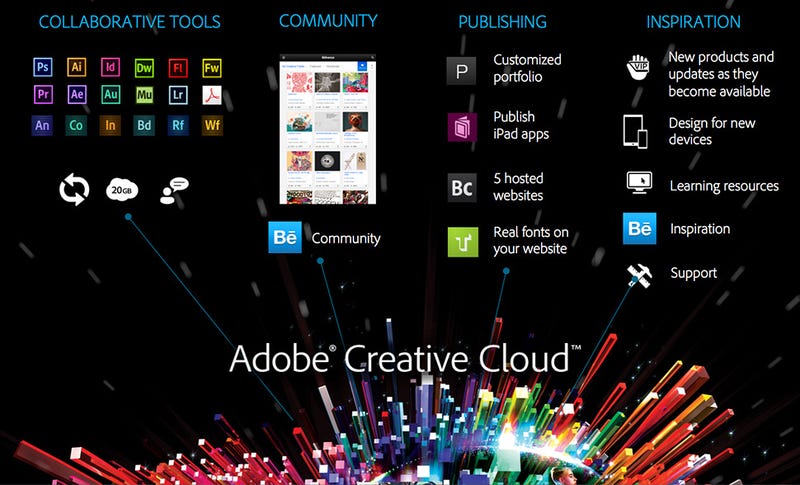 As announced previously, Adobe killed off the Creative Suite and its new Creative Cloud is in high demand, to say the least. Now, Lifehacker readers can bundle 8 Adobe training courses at 90% off for $79. These courses are from Train Simple, an Adobe Authorized training service even used by Adobe for internal training.
This bundle contains the following courses from Train Simple (CC stands for Creative Cloud):
Adobe Photoshop CC Fundamentals - Learn to Create Superior Images & Artwork
Adobe InDesign CC Fundamentals - Create & Publish Content for Print and Web
Adobe Illustrator CC Fundamentals - Master the Industry Standard Vector Drawing tool
Adobe Dreamweaver CC Fundamentals - Learn How to Build & Preview Websites
Adobe Flash CC Fundamentals - Add Animation, Video, and Interactivity to Your Websites
Courses for the rest of the creative cloude, including Adobe Acrobat, Muse, and Edge Animage
So, if you're looking to expand your skills or just want to dive into Adobe for the first time, these updated courses for the Creative Cloud are some of the best - and this is a great price. Head over to StackSocial to check it out:
Get The Adobe Creative Cloud Bundle at StackSocial for $79.
---
StackSocial is partnering with the Commerce Team to bring you deals on software, apps, gadgets, tutorials, and design. So to be clear, this post is not editorial and we make money on sales.