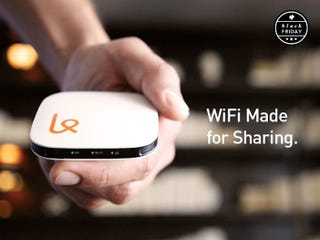 We all want free WiFi. Karma comes pretty close. Karma's innovative social bandwidth model allows you to earn a lot of free data while on a strict pay-as-you-go plan. No hidden fees, no contracts. Now, Lifehacker readers can get one of the best mobile hotspots for $69 – an early Black Friday steal.
Gizmodo's review of Karma was quite positive, giving it a Gizrank of 4/5. In fact, Karma has since fixed the only negative they listed (required Facebook integration – now it's optional).
The Twist - Free Data
Built around the idea of "Social Bandwidth," your Karma hotspot broadcasts a secure but "open" network. Every time someone new connects to your Karma, both of you earn 100 MB of free data.
You also carry your data with you – usable on anyone's Karma device.
The Details
Karma runs on WiMAX 4G Network (Coverage Map)
Data NEVER expires, and deal includes 1 free GB
Karma lasts 8-10 hours on a single charge
Supports up to 8 WiFi devices at once
Speeds: 3-6 MBPS downloading and 1.5 MBPS uploading
Karma is a pretty amazing service because they're totally transparent. No hidden fees or tricks for WiFi that fits in your pocket. Simply put – You pay for the data you use [$14/GB], when you want to use it. That's it. $14 may seem pricey, but in the context of using it when traveling, and all the free data, it's a good deal.
StackSocial is offering Karma for $69 – 30% off. It ships free to US and Canada. If you're interested, head over to StackSocial for this ThanksGIVING treat (and excuse the bad pun):
>> Get 30% off The Karma WiFi Hotspot | StackSocial

---
StackSocial curates exclusive deals on trending and innovative products. They've partnered with the commerce team to bring you these specials. So to be clear, this post is not editorial and we make money on sales.