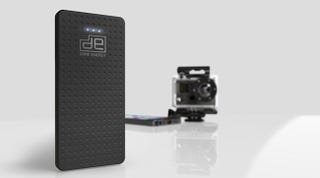 Given the monumental amount of battery juice we rely on daily, it's probably a good idea to have some backup. Founded with an acclaimed Kickstarter campaign, Dark Energy's Reservoir Compact is sleek yet very powerful (8,000 mAh), making it one of the most formidable battery packs on the market.
Of course, there are a gazillion battery packs out there already, but the Reservoir stands out by being only a fraction bigger than an iPhone, yet still able to charge a tablet and a phone at the same time. That, and being rather sexy. The Reservoir also has pass-thru technology, so when it's plugged in to a wall socket, you can fill it up and charge a device at the same time. Admittedly, it's not the cheapest energy holder, but it's one of the best, and we've sliced 17% off the MRSP (now $114.99).
>> Get 17% Off the Dark Energy Reservoir Compact Charger + Free Shipping
Here are the specs of Dark Energy's little powerhouse:
Charge 2 devices simultaneously or charge the Reservoir and your device with pass-thru technology.
Barely bigger than an iPhone at 0.49" thick, ~5" long, and 5.9 ounces (see below).
The smallest 8,000 mAh charger – tons of charging capacity in a compact lithium polymer battery.
High quality, DE certified battery charging and discharging efficiency.
It's also worth checking out the reviews…
"It's small, relatively sleek, and can really pack a punch, charging two devices simultaneously if you need to – and for that... it earns its price tag." – The Next Web
"This slim, portable charger holds enough power to charge the average smartphone for an entire week, and it does it as fast as a wall outlet. With the ability to charge two devices at once, and compatibility with any USB charging device, you'll never have to worry about charging again." – Uncrate
This deal is available in the Continental US, and free shipping is included. To get the Reservoir or find out more, check out the link below.
>> Get 17% Off the Dark Energy Reservoir Compact Charger + Free Shipping
Written by Mark Myerson
---
StackSocial is partnering with the Commerce Team to bring you deals on software, apps, gadgets, tutorials, and design. So to be clear, this post is not editorial and we make money on sales.