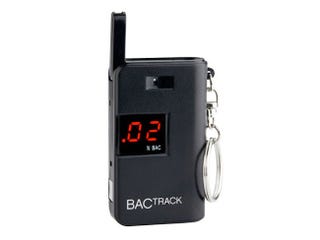 Breathalyzers can be an amazing combination of fun and usefulness, and BACtrack makes some of the best ones around. Gizmodo readers can grab their super-compact, keychain breathalyzer for $25 – almost 40% off.
Gizmodo reviewed and liked BACtrack's iOS enabled breathalyzer. Only problem? It costs $150. So, While you can probably recognize when you're drunk enough to be pulling inadvertent stunts, lesser amounts of alcohol can still be dangerous, so a breathalyzer that's this carriable is pretty neat. It's also fast — an estimation of your blood alcohol level takes only 5 seconds — and it comes with extra mouthpieces so your friends can test themselves.
>> Get BACtrack's Keychain Breathalyzer for 37% Off + Free Shipping
Here are the BACtrack's key specs:
Fits inside a purse or pocket and can be used as a keychain (1.45" × 0.55" × 2.44")
Displays BAC results in easy-to-read two-digit LED display (0.02, 0.13, etc.)
Three optional mouthpieces also included for sharing with multiple users
Wide test range – results displayed from 0.00-0.40 %BAC
Operates with one AAA battery (included)
Full one-year warranty
Even Dr. Phil seems to like it....
"I enthusiastically support BACtrack Breathalyzers and their mission to get a breathalyzer in the hands of everyone. I know lives and families can be saved through the use of personal breathalyzers." – Dr. Phil (TV Personality, Author, Psychologist)
This offer is available in the Continental US, and Canada (30% off, $27.99), and free shipping is included. For more info and the deal, check out the link below.
>> Get BACtrack's Keychain Breathalyzer for 37% Off + Free Shipping
Written by Mark Myerson
---
StackSocial is partnering with the Commerce Team to bring you deals on software, apps, gadgets, tutorials, and design. So to be clear, this post is not editorial and we make money on sales.