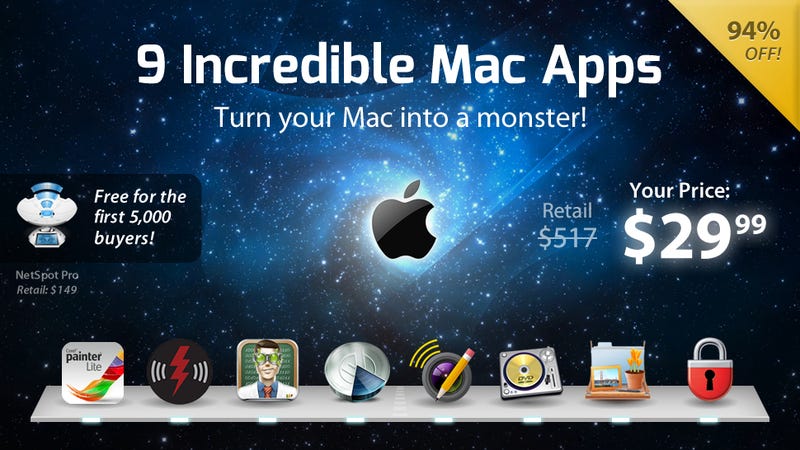 Mac Bundles can be a great way to save while loading up on quality software. StackSocial's current iStack Mac Bundle comes stocked with lots of good time saving and efficiency apps.
If you're into Digital Art, you know Painter. It's a premier Digital Art application, but at the outrageous price of $299, it's a tough purchase. This bundle is a great opportunity to try the Lite version of Painter at a huge discount.
You also get the following:
TuneUp: Lifehacker has given TuneUp a lot of love through the years. It's a great app that effortlessly organizes and cleans up your music library. It removes any duplicate songs, fills in missing artwork and revises incorrect song metadata.
Money Wiz: An intuitive take on personal finance management.
Desktop Shelves: Helps fight desktop clutter by organizing files onto shelves.
Voila: A very useful all-in-one screencapture tool for Mac.
Disk Drill Pro: A handy backup and recovery tool.
DVDRemaster 8: DVD burning and compression.
MacScan: An excellent Anti-Spyware application.
NetSpot Pro (FREE to the first 5,000 buyers!): Wi-Fi analysis and troubleshooting.
This deal ends soon, so if you're interested, head over to StackSocial for more info. And hey, we realize Mac Bundles aren't for everyone, so if you aren't feeling it, that's cool too.
Get the iStack Mac Bundle at StackSocial for $29.

Redemption: Upon completing the purchase at StackSocial, you'll be able to immediately download the entire contents of the bundle.
---
StackSocial is partnering with the Commerce Team to bring you deals on software, apps, gadgets, tutorials, and design. So to be clear, this post is not editorial and we make money on sales.