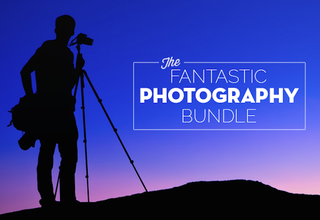 Photography is probably more accessible now than it's ever been, but it still isn't easy to take jaw-dropping snaps. To speed up the learning process, you might want to check out this bundle of courses, which io9 readers can grab for 87% off.
These seven courses total 48 hours of content, and they cover a really nice spectrum of core techniques — along with standard DSLR usage, you learn about HDR, portraiture, travel photography, shooting with your phone and restoring bust-up old pictures. Each course comes with a certificate of completion to stick on your CV, too. Scroll down for a closer look, or head for the link to grab the deal…
>> Get 87% off The Fantastic Photography Bundle ($49)
EasyDSLR Digital Photography Course: Advanced
Learn the key elements to getting better portraits
Discover the tools and tricks to get great nature photos, and the most important settings in macro photos
Learn to set up a time lapse sequence, and how to improve your photos in-computer
Learn to Create Stunning HDR Photos
Introduction to HDR photography
How to use Photomatix to create tone maps and deal with missing exposure data
Get download access to over 2GB of working files
The Art of Travel Photography
How to use the manual settings on your camera
Be prepared to take great photos on your next vacation
iPhone Photography Secrets
Master the iPhone Camera App and how to optimize your iPhone settings
Tips and techniques for developing your creative eye
App suggestions for photo capturing, editing and special effects
The Art of Black and White Photography
Create technically and aesthetically stunning black and white images with Photoshop, and develop an efficient workflow
How to use the Curves tool, smooth skin tones, and create masks to seamlessly blend two or more adjustment layers
A range of black and white conversion techniques to maximize the impact of your images
Portrait Photography with Simple Gear
Understand fill flash and the use of small strobes in location portraiture
Blend ambient light with strobes in nearly any light – and be confident that you will get the desired results
Fully understand the many different ways to make portraits with natural light, enhanced natural light, and strobes
Photo Restoration with Photoshop Tutorial
Convert gray-scale to color, and straighten your photos
Master removing stains, repairing torn pictures and correcting color
Learn some 'finishing touches', like vignetting and creating matts for your images
All the courses comes with lifetime access a 30-day money back guarantee. Check out the link for all the details…
>> Get 87% off The Fantastic Photography Bundle ($49)
---
StackSocial brings you deals on software, apps, gadgets, tutorials, and design. So to be clear, this post is not editorial and we make money on sales.