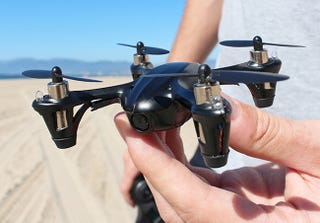 A few weeks ago, we offered a pre order discount on this limited edition Black Aerial Drone to Gizmodo readers. It sold out in 2 days. So, after securing more units, we've brought it back for io9 readers, who can get a discount of 53% off a Black Aerial Drone + Free Shipping.
The Black Aerial Drone has an SD camera and a six-axis control system. There are also four different mid-air flips in the Code Black's repertoire. And then there's the price of $69.
Note – units will take 1-2 weeks, so if you order soon, they should arrive with plenty of time before Christmas.
>> Pre-Order Exclusive: 53% off the Black Aerial Drone w/ SD Camera ($69)
Here's a run through of the Aerial's top features…
4-channel remote
6-axis flight control system
4 flips (left, right, forward, back)
Beginner and expert flight modes
USB charging cable allows you to charge it by computer (10 minutes of flight time per charge)
…and things you'll need…
4 AAA batteries (for the remote)
Determination to master flight
Liking for Batmobile-styled vehicles
Bear in mind that this deal is for the Continental USA only, with Free Shipping included. Your drone will arrive 1-2 weeks later. Check out the link for more info or to grab a drone…
>> Pre-Order Exclusive: 53% off the Black Aerial Drone w/ SD Camera ($69)
---
StackSocial brings you deals on software, apps, gadgets, tutorials, and design. So to be clear, this post is not editorial and we make money on sales.