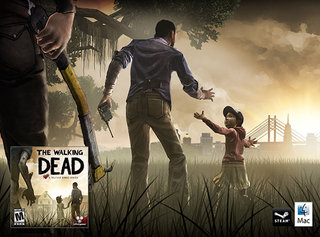 Unlike most zombie apocalypse games, The Walking Dead isn't just about gore — it's a series that's so damn gut-wrenching, you (counter-intuitively) have to go back for more. Hence, this bundle effectively brings two TWD titles for the price of one.
Yeah, so there's still plenty of blood-spurting going on in TWD games, but that doesn't win you 90+ Game of the Year awards. The hook here is the constant choices you have to make, with each decision having real consequences across the story's five episodes. As if trying to look after an 11-year-old girl during an all-out zombie oblivion wasn't going to be hard anyway…
In addition to the original title, this bundle also includes the TWD: 400 Days DLC expansion pack, which is so massive, it's virtually a title by itself. Check out the link below to grab 50% off the usual price, or scroll down for more.
>> Get 50% off The Walking Dead Bundle (PC & Mac – $14.99)
The Walking Dead
A story of adventure horror spanning 5 episodes
Based on award-winning comic books – allows you to experience the true horror of the zombie apocalypse
Tailored game experience – profound and lasting consequences of the decisions that you make in each episode
TV series foreshadowing – experience events, meet people and visit locations that foreshadow the story of Deputy Sheriff Rick Grimes
The Walking Dead: 400 Days (DLC)
DLC for the winner of over 90 Game of the Year awards
5 linked stories that can be played in any order
See the apocalypse develop from 5 very different points of view
Your decisions will affect the story around you
You get access to downloading the game on Steam (both PC + Mac) when you purchase this deal, but be aware that all sales are final. Note that you'll have to register for an account @ Mac Game Store to receive your Steam keys. Check out the link below to ensure your system has the minimum specs.
>> Get 50% off The Walking Dead Bundle (PC & Mac – $14.99)

Bonus Deal: StackSocial also has Sim City 4 (the deluxe version) for $4.99. You receive a steam key that's good for both PC & Mac. Impulse buy on a classic game? I think yes!
---
StackSocial brings you deals on software, apps, gadgets, tutorials, and design. So to be clear, this post is not editorial and we make money on sales.