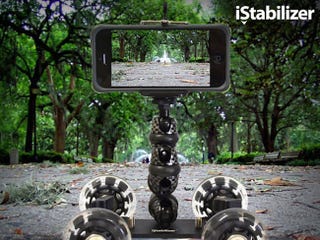 On every TV show, you'll see shots that seem to glide, and it is often done with the use of a dolly — essentially a tripod on wheels. The iStabilizer Dolly is a scaled down version for smartphone and DSLR videographers, and it works perfectly. Gizmodo readers can grab one for 40% off – down from $65 to $39.
We all wanted to make movies as a kid, but if you were like me, you lacked the tools to do it properly. But today, using just a smartphone and an accessory like the iStabilizer, you can take some pretty incredible shots. Your phone or camera goes on that flexible arm, and then you adjust the chassis so it rolls on the right track (straight or in an arc). With a phone in place — any brand/model up to 2.75" wide — that arm allows you to shoot down at ground-level. Check out the video below to see some of the results.
>> Get 40% off the iStabilizer Dolly ($38.99 + free shipping)
Ignoring how corny that video was, here's a run-through of the Dolly's features…
The iStabilizer Dolly's arm adjusts to shoot at nearly any angle
The smooth rolling wheels create even tracking while filming
Works with almost any smartphone or case up to 2.75" wide (iPhones, most Androids, etc)
4.5 Star rating on Amazon
Bear in mind that this deal is continental US only, and shipping is free. Check out the link for all the extra info…
>> Get 40% off the iStabilizer Dolly ($38.99)
---
StackSocial brings you deals on software, apps, gadgets, tutorials, and design. So to be clear, this post is not editorial and we make money on sales.