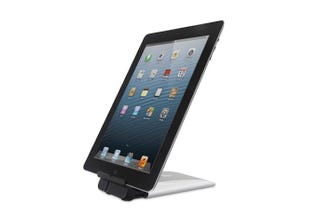 Rain Design makes the best stands around. Their iSlider mimics Apple's aluminum finish, and conceals a slide-out that holds iOS devices at any angle, either portrait or landscape. That makes the iSlider great for getting things done or for movie watching. Now, Lifehacker readers can grab it for 20% off.
The iSlider is only one inch thick, so it's compact enough to take anywhere, and it even accommodates cases up to ⅝″ (incl. the Apple Smart Cover & Case). We think at $39.99 (it's all time low price) iSlider adds up to a great combination of looks, portability and functionality.
>> Get the iSlider iPad Stand for 20% Off + Free Shipping (US)
Plus, the reviewers love it…
"For me, the best overall blend of value, weight, and versatility is Rain Design's $50 iSlider." — MacWorld
"Rain Design has solved the problem of carrying an adjustable iPad stand around by designing a unique folding mechanism for the iSlider. It looks good, it's built to last, and it provides both style and function in a pocketable design." – TUAW
"Rain Design has come up with one of the most compact and versatile iPad stands we've tested…" — iLounge
Here's the key info…
Slim and lightweight — just 5.5"× 3" × 1"
Features multiple viewing and typing angles
Anodized aluminum matches iPad finish
Supports landscape and portrait orientations
Compatible with iPad Air, iPad mini, iPad mini w/ Retina display, iPad (1st-4th gen)
Works with Apple Smart Cover & Smart Case
Bear in mind that it's only available in Continental US, but shipping is free. The iSlider is available in Silver, Black, & Pink. If you'd like to upgrade your iPad workflow, head over to StackSocial:
>> Get the iSlider iPad Stand for 20% Off + Free Shipping (US)
Written by Mark Myerson
---
StackSocial is partnering with the Commerce Team to bring you deals on trending software, apps, gadgets, tutorials, and design. So to be clear, this post is not editorial and we make money on sales.