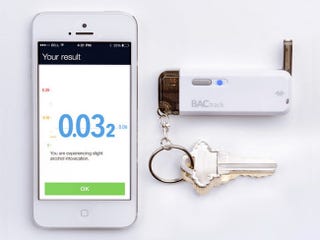 Breathalyzers... they're one of the few devices that's both lots of fun and totally practical. BACtrack makes some of the best. Now, Deadspin readers can get an exclusive discount on BACtrack's bluetooth enabled Vio . Use the code "viospin" for an extra discount, taking the price down to $39.99.
A breathalyzer is a smart purchase, but it's also a lot of fun. Plus, with the BACtrack app, you can not only track how intoxicated you are, but you can also get estimates on when you will return to 0.00% blood alcohol content.
>> Get 20% Off The BACtrack Vio – $39.99 with code "viospin"
Here's The Highlights:
Compact – easily fits on a keychain or in a pocket
FDA Approved – an official FDA 501(k) alcohol screening device
Bluetooth connectivity – works with iOS & Android (has apps for both)
Sanitary – includes multiple mouthpieces so you don't have to share
Includes 1 year warranty
This deal on the Vio is available worldwide, but includes free shipping inside the US. Interested? Head for the link below as this deal ends in a few days:
>> Get 20% Off The BACtrack Vio – $39.99 with code "viospin"
---
StackSocial brings you deals on gadgets, apps, elearning, and consumer tech. So to be clear, this post is not editorial and we make money on sales.