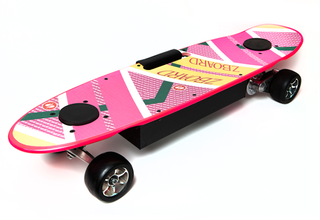 A true hoverboard is still in the works, but in the meantime, Zboard, makers of the outstanding electric skateboard, have released a special Back To The Future edition. It has a built-in electric motor with a top speed of 17 mph, and io9 readers can get one for $149 off.
How does an electric skateboard work? You just tilt forward to go faster, lean back to brake, and lean sideways to enjoy steering your ride. There's enough battery capacity under the deck to keep you moving for up to 5 miles per charge. It's also equipped with rubber wheels for secure grip, and a carrying handle for when you reach your destination.
The ZBoard currently has $149 off (19%), making it $600. Expensive? Yes. Epic? Also, yes. Scroll down for more…
>> Get 19% off the Zboard electric skateboard + free shipping
The ZBoard lowdown:
Weight-sensing controls – one pad to stop, one pad to go
17 mph top speed
5 miles highway / 3 miles city
Premium 110mm rubber wheels
Handle for easy carrying
And here's a snippet from Gizmodo's Review:
"We hoped it would be the first powered skateboard that could actually ride, well, like a skateboard. We tested it out today and it's exactly that: a fun ass skateboard that can move on its own." – Gizmodo
This offer is only available in the Continental US, but shipping is included and you get a 30-day money back guarantee. See the link below for the deal and more info:
>> Get 19% off the Zboard electric skateboard + free shipping
Written by Mark Myerson
---
StackSocial brings you deals on software, apps, gadgets, tutorials, and design. So to be clear, this post is not editorial and we make money on sales.