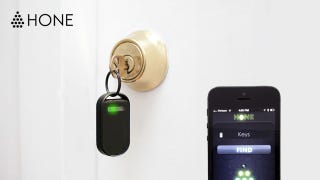 Cold...warmer...warmer...HOT! Hone is a Bluetooth 4.0 tracking device that makes it easy to "home" in on lost keys. It sends a signal from your keychain to your iPhone. Gizmodo readers can get Hone almost 20% off for $49.99 plus free shipping.
Similar to Tile, Hone is incredibly easy to use. Simply download and open the app, which will automatically pair with the device. From there, click "find," and you'll locate your keys in no time.
As long as Hone is within range of your device's Bluetooth (~130 feet), the proximity sensor will go off. This makes finding your keys easy (mine are inevitably buried in the couch). Hone is also pretty light, so it doesn't add bulk to your keychain.
Features:
Open Source - hackers everywhere can build new uses for Hone
Free iOS App for homing in on lost keys (or lost whatever :)
Battery Life: 6 months
Compatible with: iPhone 4S + 5, iPad 3 + 4, iPad Mini, and all future iOS devices
Weight: 6 ounces
Keep in mind that there are no refunds. This promotion is only available to customers in the United States and Canada and includes shipping. If you'd like, head over to StackSocial to check it out:
Get Hone at StackSocial for $49.99 + Free Shipping.
---
StackSocial is partnering with the Commerce Team to bring you deals on software, apps, gadgets, tutorials, and design. So to be clear, this post is not editorial and we make money on sales.