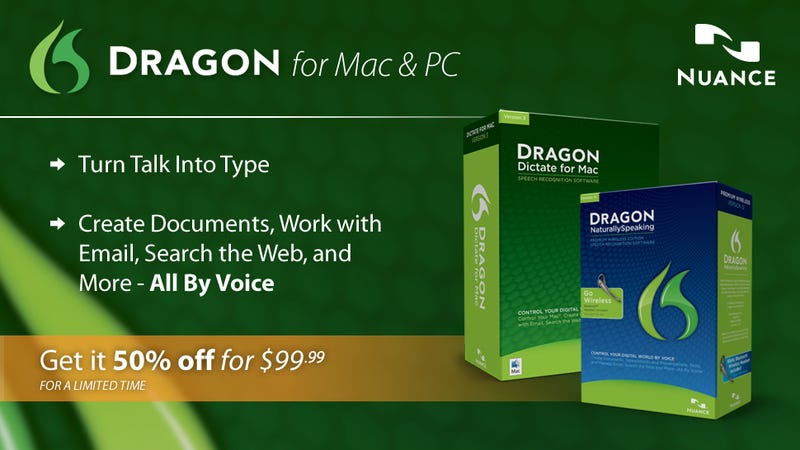 This deal is for the time-management obsessed. Dragon is premium voice-to-text software, and can save you serious time and effort during everyday computing tasks. For a limited time, StackSocial has Dragon Dictate for Mac and Dragon Naturally Speaking for PC, each 50% off.
Siri may be total crap, but as Lifehacker will attest, Dragon is the real deal (review is for an older version of Dragon).
Here are some of the benefits of Dragon:
Work faster and more accurately - Write, email, and surf the web 2x faster than typing.
Fewer aches at the end of the day - If you normally write or type a lot, using Dragon may help reduce strain on your eyes, wrists, neck and back.
Productivity on-the-go - Record your thoughts away from your computer using a Digital Voice Recorder or the Dragon Remote Mic App (free in the App store). Either way, when you connect to the computer, Dragon will transcribe the recorded audio files.
Here are some of the downsides of Dragon:
No voice-to-text tool is perfect, don't expect that from Dragon.
WAV audio files can take up a lot of space, so if you're going to use Dragon for a lot of transcription, be sure to have plenty of free Hard Drive space.
Get Dragon for $99.99 - 50% off: Dragon For Mac or Dragon for PC
Languages: US/Canada English, UK English, German, Italian, & French.
Redemption: License will work on 2 computers, and includes all minor updates. Upon completing the purchase at StackSocial, you'll be able to immediately download the entire contents of the bundle. You must download your software within 7 days of purchase.
---
StackSocial is partnering with the Commerce Team to bring you deals on software, apps, gadgets, tutorials, and design. So to be clear, this post is not editorial and we make money on sales.