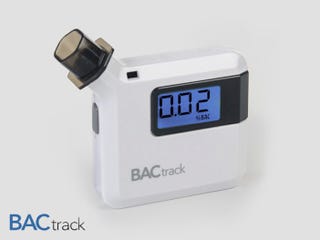 A few years back, a man was arrested for DUI while wearing a breathalyzer costume for halloween. Oh, the irony. A good breathalyzer can help avoid that, or other perilous drinking & driving situations. For a little while, Jalopnik readers can grab one, the BACtrack S35 for 57% off – just $29.99 (its lowest price ever).
BACtrack measures your BAC (blood alcohol content) quickly, and lets you know whether or not you should drive home. Plus, it's great fun at parties – these make good gifts.
The BACtrack S35 is super-discreet – it can easily fit in your pocket and displays your BAC quickly, in just five seconds. Please note however, that no breathalyzer is a replacement for good judgement.
BACtrack normally retails for $70 – Jalopnik readers can get it for $29.99.
We've even thrown in free shipping to the US and Canada. Interested? Head over to StackSocial:
>> Get The BACtrack S35 Pocket Breathalyzer for $29.99 | 57% off | StackSocial
---
StackSocial curates exclusive deals on trending and innovative products. They've partnered with the commerce team to bring you these specials. So to be clear, this post is not editorial and we make money on sales.