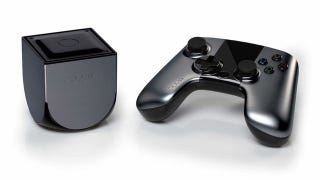 The Yves Behar-designed console took Kickstarter by storm last year, with over 63,000 gamers backing it as a fresh, Android-powered alternative to the expensive powerhouses of Xbox and PS4. Six months later, 660 games are available. Now, Kotaku readers can pick one up plus a $25 game credit at 15% off (just $85).
Kotaku gave the Ouya a mixed review, saying it was a promising idea but lacked the execution to really match up with the PS4 or Xbox One. But for less than $100 – does it really have to? The Ouya offers a combination of smartphone-like graphics and gameplay that harks back to the glory days of console gaming.
>> Get 32% Off the OUYA + $25 of Game Credit and Free Shipping
Here's what the OUYA brings…
All games are free to try, but with the $25 game credit you can purchase a bunch of games right off the bat
Over 30,000 game developers are on Ouya, so new titles are being released all the time
Full-on entertainment – streaming apps like VEVO, iheartradio, TuneIn, XBMC, Plex and Twitch.tv, with new games and media apps arriving every day.
Well connected – Bluetooth, Wi-Fi (802.11b/g/n), Ethernet, 1080p HDMI 1.4 and USB. Plus, 8GB of in-built storage.
This offer is only open to those of you in Continental US, but free shipping is included, as is one controller and the AA batteries to power it. If you'd like to get the freshest thing in console gaming, head for the link below:
>> Get 32% Off the OUYA + $25 of Game Credit and Free Shipping
P.S. Something to note. People keep mentioning in the comments that even though the OUYA isn't the best console, it's an amazing emulator. And for <$100, as an emulator that's a steal. What do you think?
Written by Mark Myerson
---
StackSocial is partnering with the Commerce Team to bring you deals on software, apps, gadgets, tutorials, and design. So to be clear, this post is not editorial and we make money on sales.