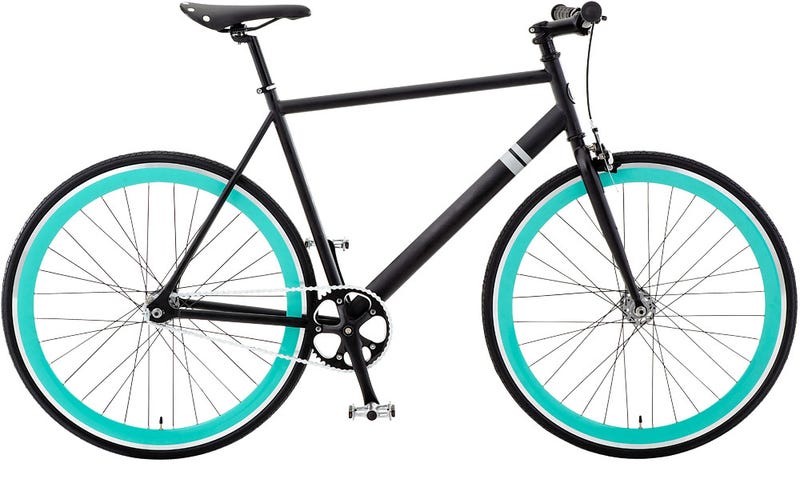 Who doesn't love a nice bike ride? Solé Bicycles are our neighbors on Venice Beach. They build beautiful, unique bikes that even us hipster-haters can't resist. With Solé you can alternate between riding a Fixed Gear or a Single Speed. And for a little while, Gizmodo readers can pick up any Solé for 30% off.
If you're a longtime reader, you know that Gizmodo likes unique bikes. Fixed gear bikes have gotten popular lately, and we think they're pretty cool. Not only can you ride very fast on a Fixed Gear, but you can ride backwards, which is quite a novelty.
Still need convincing?
Here's more shots of our favorite: "The FOAMSIDE"
Another good one, "The HAPPENIN"
A unique thing Solé does is partner with local artists in Venice to offer limited-edition designs. For example, "The ZISSOU"
Anyway, these bikes are a little pricey because look and ride great. You can check out Solé's entire selection here. They normally cost $400, but Gizmodo readers can get any Solé bike 30% off for $279. Shipping costs $25 flat to anywhere in the US. Styles and Sizes are limited based on availability at checkout. Need to know the difference between single speed and fixed gear bikes? Read this.
This sale ends at midnight tonight (Saturday the 9th), so grab 'em while you can!
P.S. Owen Wilson! (on "The Zissou")
---
StackSocial curates exclusive deals on trending and innovative products. They've partnered with the commerce team to bring you these specials. So to be clear, this post is not editorial and we make money on sales.