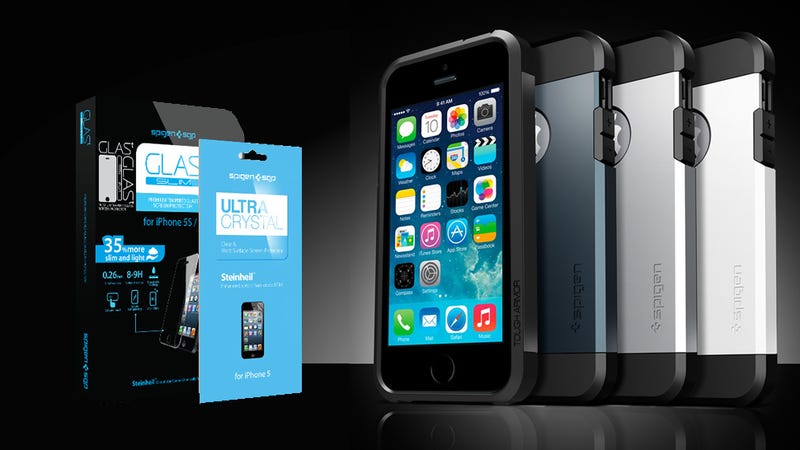 For the iPhone 5S launch, we wanted to hook Gizmodo readers up with something special. Right now, readers can get Spigen's popular all-glass screen protector (GLAS.t) with their Tough Armor Case for $37. Good for iPhone 5 and 5S, this is a bargain on one of the best iPhone cases around.
We offered this deal with a different case before, and the response was overwhelming - literally - we sold out! This time around, we upgraded to the Tough Armor case. Classified by iPhone in Canada as "the best one [case] in the market yet."
Here's the breakdown of what you'll get [remember: for iPhone 5 and 5S only]:
Tough Armor Case: in Black, Satin Silver, or Smooth White (4.5 Stars on Amazon)
GLAS.t Slim Glass Screen Protector: this is a really unique product, the anti shatter glass is especially cool, and yes - it works with the new fingerprint scanner (4 stars on Amazon)
Steinheil Ultra Crystal Screen Protector
Normally these products would add up to $74, but Gizmodo readers can get it for $37 - 50% off.
Important Details: After completing the purchase on StackSocial, you are directed to Spigen's site where you select the color for your case. There are no refunds. Though shipping is FREE in the US, international shipping can get pricey (you can calculate an estimate here). Also, if you buy multiple cases, you will need to redeem them individually on Spigen's website (with different email addresses).
If you're interested, head over to StackSocial to check it out:
The iPhone 5/5S Tough Armor Bundle | StackSocial
*Update* Due to the demand for this deal, all purchases going forward will take around 7 days to ship from Spigen. If you have any questions, feel free to contact me directly: alex.beller [at] stacksocial.com
---
StackSocial is partnering with the Commerce Team to bring you deals on software, apps, gadgets, tutorials, and design. So to be clear, this post is not editorial and we make money on sales.