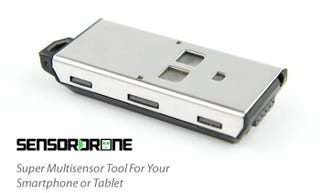 By connecting to your phone via bluetooth, the Sensordrone adds a bunch of environment-monitoring usefulness to your daily routine. It contains 11 different sensors that lets you to breathalyze, measure gas leaks, temperature, and more, all on-the-go. Lifehacker readers can grab one at a 25% discount, for $149.
>> Get 25% off the Sensordrone
In a package small enough to fit on your keyring, the Sensordrone contains 11 sensors, which between them can detect pretty much everything about your surroundings:
Includes three types of gas sensors, ambient and non-contact thermometers, a humidity sensor, a pressure sensor, light and color meters, a proximity sensor and an expansion connector interface.
Ideal for detecting gas leaks, breathalyzing, monitoring the weather, engine diagnostics, or checking storage conditions. Can also be used for measuring light intensity and sunlight, finding wall studs, measuring liquid levels, and even monitoring blood pressure if you attach a cuff.
Three data streaming modes available (Call-Respond, Streaming and Data Logging), and data can be shared via social networks.
Easy to set up – download any of the eight free data-crunching apps, connect to the Sensordrone via Bluetooth, and you're ready to go.
Extensible and programmable, thanks to open source software.
Works with Android (Froyo 2.2 or later), and iOS (6.1 or later).
But don't just take our word for it; not only did the Sensordrone raise nearly seven times its Kickstarter funding target, but the reviews have been pretty good, too…
" …slightly Star Trek, with the device connecting across Bluetooth to share a wealth of data on what's going on around you" – Engadget
" …mind-blowing… applications of Sensordrone are simply astounding" – Android Police
Right now, we think that the Sensordrone is the closest you're going to get to a know-it-all mobile device, and while the $149 price-tag isn't bargain basement, you're going to get a whole load of day-to-day utility out of this little accessory.
Details: bear in mind that you'll need to choose your preferred method of shipping after purchase (not included in the price). The Sensordrone ships internationally.
If you'd like to pick up a Sensordrone at this special rate, head over to StackSocial.
>> Get the Closest Thing to a Tricorder with 25% off the Sensordrone
Written by Mark Myerson
---
StackSocial is partnering with the Commerce Team to bring you deals on trending software, apps, gadgets, tutorials, and design. So to be clear, this post is not editorial and we make money on sales.