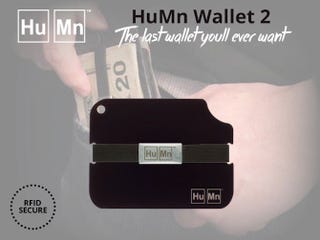 They say great design stands the test of time, but just occasionally, an update is in order. Look at the wallet — since forever, guys have kept their money in the folded skin from a cow's backside. But in today's world, leather wallets simply aren't secure.
The folks at HuMn (pronounced Human) have come up with a more secure approach. The Kickstarter-funded HuMn Wallet 2 is best defined as minimalist – coming with a much slimmer profile than your average card carrier. But, it's also built for today's world — the aluminum body stops hustlers from swiping the RFID chips on your credit cards, preventing a potentially huge loss. Just as impressively, the HuMn currently has 34% off (now $49.99).
>> Get the HuMn Wallet 2 for 34% Off + Free Shipping
Here are the HuMn's vital statistics…
Aluminum Strong — made from 6061 aircraft grade aluminum, dip-anodized to make it durable and give it that visual pop.
Shock Strap — a high-quality elastic strap that's built to last while retaining elasticity.
RFID Proof — protects against RFID skimming by providing protection of your identity and credit cards.
Small and Lightweight — W 3.85″ (97.79mm) x H 2.96″ (75.18mm). Only 0.1″ (2.54mm) thick, and weighs 1.7 oz.
As Lifehacker points out…