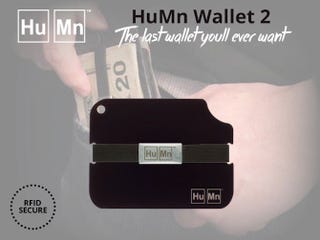 They say great design stands the test of time, but just occasionally, an update is in order. Look at the wallet — since forever, guys have kept their money in the folded skin from a cow's backside. But in today's world, leather wallets simply aren't secure.
The folks at HuMn (pronounced Human) have come up with a more secure approach. The Kickstarter-funded HuMn Wallet 2 is best defined as minimalist – coming with a much slimmer profile than your average card carrier. But, it's also built for today's world — the aluminum body stops hustlers from swiping the RFID chips on your credit cards, preventing a potentially huge loss. Just as impressively, the HuMn currently has 34% off (now $49.99).
>> Get the HuMn Wallet 2 for 34% Off + Free Shipping
Here are the HuMn's vital statistics…
Aluminum Strong — made from 6061 aircraft grade aluminum, dip-anodized to make it durable and give it that visual pop.
Shock Strap — a high-quality elastic strap that's built to last while retaining elasticity.
RFID Proof — protects against RFID skimming by providing protection of your identity and credit cards.
Small and Lightweight — W 3.85″ (97.79mm) x H 2.96″ (75.18mm). Only 0.1″ (2.54mm) thick, and weighs 1.7 oz.
As Lifehacker points out…
"Although plenty of RFID-blocking wallets exist, none are quite as thin and pocketable as the HuMn."
Here's the size comparison between HuMn and a normal wallet:
This deal is only available in the Continental US and free shipping is included. If you'd like to slim down your wallet while making it more secure, check out the link below:
>> Get the HuMn Wallet 2 for 34% Off + Free Shipping
Written by Mark Myerson
---
StackSocial is partnering with the Commerce Team to bring you deals on software, apps, gadgets, tutorials, and design. So to be clear, this post is not editorial and we make money on sales.