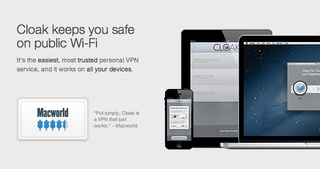 Surfing the Internet on an unsecured, public wifi network can make you an easy target for hackers and identity thieves. Cloak serves as a defense to those prying eyes. A year's subscription to Cloak normally costs $96, but we're offering it for $59.99.
For that price, you get a years subscription to Cloak's most popular plan (25 GB of data a month). The 25 GB limit represents how much data you can send or recieve through unsecured Wi-Fi when Cloak is enabled (not how much storage is on your hard drive or how much data you use at home).
For example, the data used when you stream Game of Thrones at home won't count toward the 25 gigs/month...but the data used when you pirate Game of Thrones at the Airport because you can't wait to get home definitely counts.
How It Works
Security - Cloak automatically sets you up on a Virtual Private Network (VPN). This encrypts your connection so no one on the unsecured, public network can view your online session.
Cloak works on all Apple devices - Cloak works on both OSX and iOS. Macs, iPhones, iPads, and iPods are all secured with a single click.
Ease of Use - Click one button to enable Cloak and you're good to go. No technical setup or fuss.
Credibility Stamps
Lifehacker has shown Cloak a lot of love:
"Cloak makes the process as dead simple as it could possibly be: whenever you're connected to an open Wi-Fi network, it connects you to its VPN service for totally secure browsing. It could not be any simpler to use." - Whitson Gordon, Lifehacker
Redemption
Click the link below to be redirected to StackSocial's deal page
Click the green "BUY NOW" button, and login if necessary
Complete the purchase
At that point, you will be redirected to a personalized landing page with further redemption/installation instructions
One last good thing about Cloak is their transparent policies. They let you know exactly how they use and protect your data. For a product that's protecting your security, being upfront like that counts.
So here's your StackSocial exclusive:
>> 37% off 1-year subscription to Cloak [via StackSocial]
---
StackSocial is partnering with the Commerce Team to bring you deals on software, apps, gadgets, tutorials, and design. So to be clear, this post is not editorial and we make money on sales.