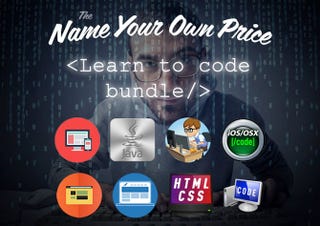 Interested in learning to code? Whether you want to become a pro developer or just mess around with code as a hobby, it can be hard to get started. To help get you up to speed, we've put together a bundle of courses, covering HTML5, CSS, Java, PHP, MySQL, Objective C, Xcode, Python and more. The best part? it's name your own price.
It's a bit crazy, but we're letting you Lifehacker readers pay whatever you like for Programming Java for Beginners (normally $59) and PSD to HTML5/CSS3 ($39) — but pay above the average, and we'll throw in 6 more courses. That makes a total of 826 total lectures and 86 hours of high quality content, worth $893…which should keep you busy for a while, methinks. Plus, we'll give 10% of your purchase price to Child's Play, World Wildlife Fund or Creative Commons. Can't say fairer than that.
>> The Name Your Own Price Learn to Code Bundle
Here's what you get…
Become a Web Developer from Scratch ($199) — 234 lectures and 41 hrs of HTML, CSS, Javascript, PHP, XML, jSON, AJAX, jQuery and the new HTML5 + CSS3.
Creating Responsive Web Design ($150) — learn how to optimize your web pages for different screen sizes and platforms.
Build a Website from Scratch with HTML & CSS ($149) — 77 lectures and 8 hours of content taking you from basic HTML and CSS to a beautiful, semantic web page.
Learning Dynamic Website Design: PHP, MySQL and JavaScript ($99) — build functional, full-featured websites that utilize MySQL, PHP and other current web development technologies.
iOS & Mac OS X Programming Tutorial: Objective C & Xcode ($99) — gain a solid understanding of programming for both of Apple's operating systems.
Web Programming with Python ($99) — learn Python object-oriented programming techniques, the essentials of XML and how to work with Django.
Programming Java for Beginners ($59) — over 115 lectures and 10 hours of teaching, covering object-oriented programming, classes, objects, loops, and much more.
PSD to HTML5/CSS3 ($39) — learn how to slice up a Photoshop mock-up and hand-code a valid HTML5 and CSS3 website.
We're happy for you to just pay whatever you like for Programming Java for Beginners and PSD to HTML5/CSS3. But we've put these 8 courses together for a reason, and by beating the average price, you'll get a comprehensive bundle for a very low price.
If you'd like to upgrade your coding knowledge, head for the link below, select your price and pick a charity to receive 10%.