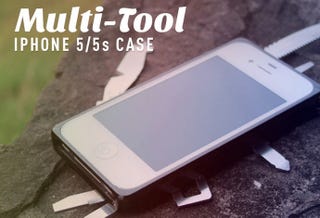 Everyday tasks like fixing a bike or building your latest Ikea piece are what Lifehackers live for — nothing beats the thrill of some DIY. But as any good McGyver-wannabe knows, you always need the right tools. The TaskOne Case, which Lifehacker readers can get for 35% off, turns your phone into a full-fledged toolkit.
With 22 tools on board, you might think that the TaskOne would bulk up your phone, but it weighs only 96g. And because it's made from aluminum and polycarbonate, with a soft polymer interior, it's going to keep your iPhone 5/5S safe, too. This thing retails for $100, but we've got it for $64.99. Scroll down for the complete specs…
>> Get the TaskOne Multi-tool Case for 35% off + Free Shipping
Here's what you get…
2.5" Removable Knife
1.8" Wood Saw
Kickstand
Bottle Opener
6 Allen Wrenches
Pliers and Box Wrenches
3 Screwdrivers
Wire Stripper & Cutter
The reviews look very solid…
"… when you consider that you're getting not only protection, but also a Leatherman's worth of neatly stowed tools, this might be just the case for the family handyman, the mechanical engineer, the cyclist, or anyone else who's always in need of a screwdriver. Or pliers. Or 1.8-inch sawblade." – CNET
…plus, every TaskOne is tested in-house before it's shipped.
This offer only applies to Continental US and Canada, but free shipping is included to both countries. If you'd like to grab a TaskOne at this limited-time price, head to the link below:
>> Get the TaskOne Multi-tool Case for 35% off + Free Shipping
Written by Mark Myerson
---
StackSocial is partnering with the Commerce Team to bring you deals on software, apps, gadgets, tutorials, and design. So to be clear, this post is not editorial and we make money on sales.